Post by Nancy Davis Yellious with Seatlle IT Group Masters

ChangeWave Research reports on the results of a new survey conducted last month regarding corporate usage of tablet devices such as Apple's iPad. With new tablet offerings such as the HP Slate 500 and the Dell Streak now becoming available, the survey finds that businesses are still overwhelming supporting the iPad as tablet adoption increases at a rapid rate.
In terms of current usage, 7% of corporate respondents now say their company provides employees with Tablet devices - up 1-pt since our previous survey in August.

The Apple iPad (82%) remains by far the most popular Tablet for business purposes. H-P (e.g., Slate; 11%) and Dell (e.g., Streak; 7%) are also showing some traction among corporate users - but both remain far behind Apple's overwhelming share of the market.
Usage is expected to continue to surge, with the number of surveyed companies planning to be utilizing tablets in the first quarter of 2011 registering at 14%, double the current number. Those companies planning to begin using tablets early next year are also overwhelming planning to adopt the iPad, with 78% opting for Apple's tablet device.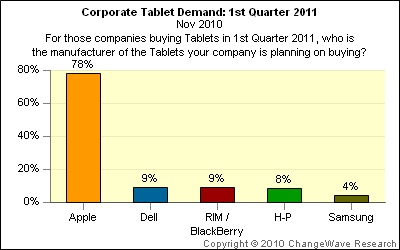 Among those companies that have already begun using tablets, the iPad registers highest in satisfaction, with 69% of corporate users saying they are "very satisfied" with the device, compared to only 23% of HP tablet users and 12% of Dell tablet users.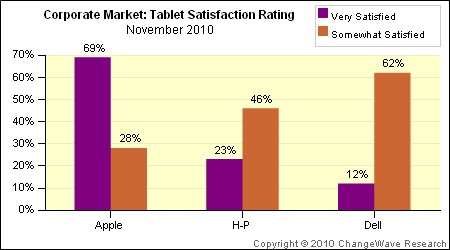 Finally, the survey finds that corporate users are more broadly using the iPad for such functions as Internet access, corporate email, and on-the-road work when compared to the firm's August survey...................
AND WHAT OF ENTERPRISE "OUTFITS?'
The tablet is not yet a standard-issue sidearm in enterprise, but it's well on its way to becoming one — particularly Apple's iPad.
According to Good Technology, which provides mobile device management services to 49 of the Fortune 100 and 182 of the Fortune 500, 27 percent of the mobile devices activated by its enterprise customers during the second quarter of 2011 were tablets.* And most of those were iPads.
More than 95 percent, actually.
Which is impressive, certainly, but not all that surprising. The iPad is more well-established in the tablet market than its various Android rivals; it makes sense that it has made deeper inroads into enterprise.

That said, it's worth noting that Android tablet activations among Good customers actually declined to 3.1 percent during the quarter, despite the debut of the Motorola Xoom and Samsung Galaxy.

In fact, Good noted more iPad activations during the quarter than activations of all Android tablets and smartphones combined. Interesting, considering Android's recent growth.
Why the disparity? John Herrema, Senior Vice President of Corporate Strategy at Good, thinks it's got a lot to do with the consumerization of IT and the growing number of "Bring Your Own Device" employees in the enterprise space.
"We attribute the large gap between iPad and Android tablet activations to the combination of user preference among our 'BYOD' users and large deployments of company-owned iPads, especially in verticals like financial services and healthcare," he told AllThingsD.com.
But the iPad can't maintain that vast a lead forever. Android will likely narrow the gap in tablet activations just as it did for smartphones before, though Good doesn't see that happening until at least 2012.
"As we saw with Android smartphones over the course of 2010, we do expect Android to narrow this huge gap in tablet activations," the company wrote in its Device Activations Report. "However, we don't see that happening in 2011. The iPad 2 simply has too much momentum."
Indeed. As Apple CFO Peter Oppenheimer said during Apple's latest earnings call earlier this week, "Today 86 percent of the Fortune 500 are deploying or testing iPad within their enterprises, up from 75 percent last quarter. We are also seeing strong adoption internationally with 47 percent of Global 500 companies testing or deploying iPad. In the 15 months since iPad has shipped, we have seen iPad used in the enterprise in ways we could have never imagined."